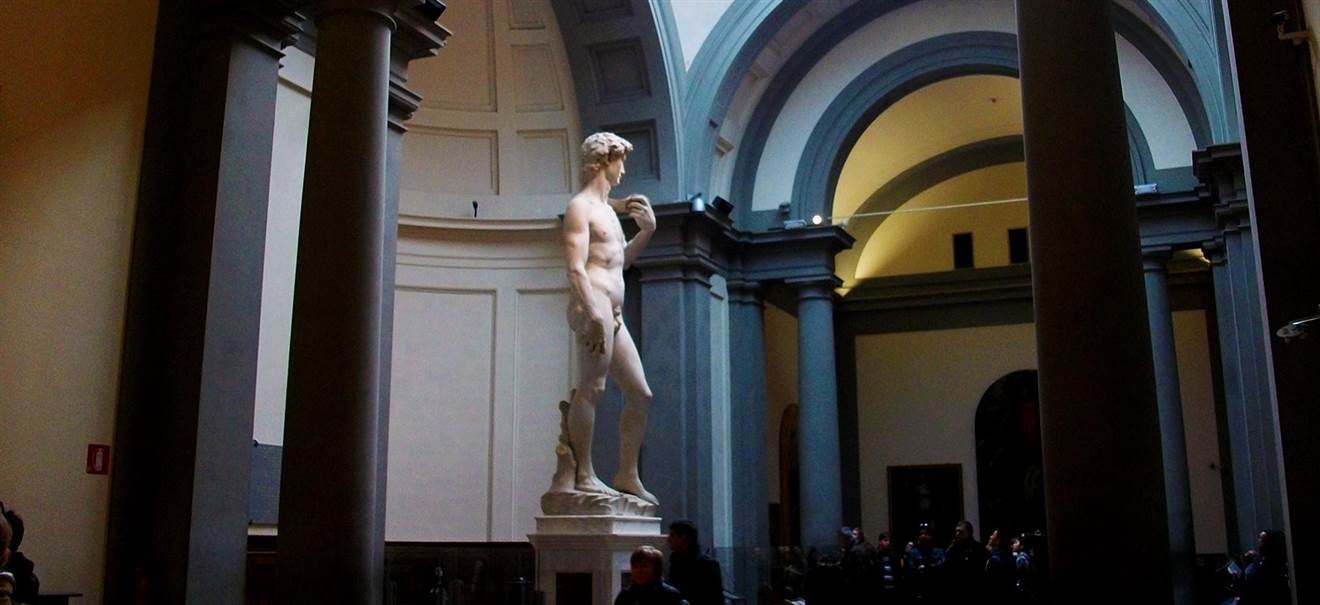 Accademia Gallery ´Skip the line´
To product
A former hospital in the 14th century, then the Academy of fine arts, Accademia gallery houses the iconic "David", the sculptural masterpiece by Michelangelo.
As such, this is a must-visit for all travellers to Florence. Sculpted between 1501-1504, the piece was originally meant to be an outside decoration of the Cathedral of Florence. Instead, it became a symbol of the commitment of the Florentine State of freedom and independence, as well as a symbol of the Medici's defeat in 1494. 
It still personifies energy, vigor and courage, symbolizing the whole of mankind fighting for survival. The anatomy of David, later reproduced by Michelangelo's contemporaries, was carefully depicted thanks to the in-depth studies carried out by the great artist. In addition to David, you will also see four statues of the Slaves commissioned by Pope Julius II as a decoration for his grave, as well as famous pieces "Mourning Over Jesus Christ" and "St. Matthew". The museum houses an interesting collection of paintings from the Middle Ages, Renaissance and early 17th century.
Included:
 Skip the line ticket to Accademia Gallery
 Audio guided tour "Palaces (from the outside) and Piazzas: The Highlights of Florence" (in English)
Major landmarks:
Cathedral Santa Maria del Fiore, Orsanmichele, Piazza Santa Felicita, Ponte Vecchio, Palazzo Vecchio, The Uffizi Gallery, fashion outlets like Gucci, Emilio Pucci, Salvatore Ferragamo, Pitti Palace, Galleria Palatina, and many more.
Please note: It is required to bring your own headphones with you in order to enjoy the audio guide.
Opening Times:
Tuesday - Sunday: 8.15 am - 6.50 pm
Address:
Via Ricasoli, 58-60113/R
50122 Firenze, Italy.
BUY YOUR TICKETS ONLINE AND SKIP THE LINE! TICKETS ARE NON-REFUNDABLE.
Due to the enormous demand for Accademia Gallery tickets reservations can only be made 2 days in advance. You can select morning or afternoon tickets. An exact timeslot will be given after your reservation. Tickets will be sent within 24 hours. 
Note: Children under 6 years old are free of charge