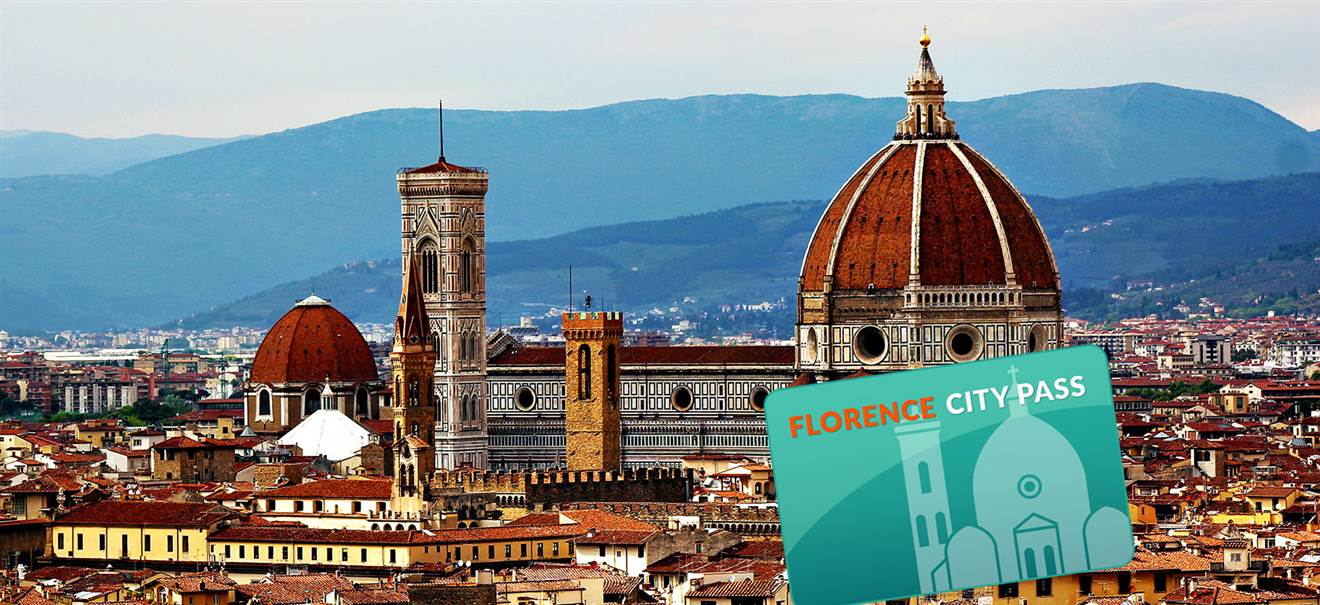 Florence City Pass (Incl. Uffizi, Airport Transfer)
To product
Includes: Uffizi, Hop on Hop off Bus 24h, Airport Transfer to the centre of the city, A Visit to the Dome of the Cathedral and/or Accademia Gallery and last but not least 20% discount for everything you want to visit in Florence!
The ultra-convenient Florence City Pass includes skip-the-line entrance to the city's most famous destinations, airport transfer, and discounts to countless further attractions. Even better, you receive everything by email so that you don't waste time picking it up when you arrive.
It means that it's easier than ever to maximize your precious time in Florence by organizing everything in advance. Simply order your Florence City Pass(es) online  and you're ready for all that this wonderful city has to offer:
Skip-the-line entrance to the amazing Uffizi Gallery
Skip-the-line tickets to Accademia or Dome of Cathedral
No stress at the airport thanks to our Airport Transfer that takes you to the city center/to your hotel
See more of these sophisticated Tuscan hotspots with Hop-on Hop-off bus flexibility
Unlike other passes you also benefit from:
-A discount code for 20% in countless further attractions like  Bargello Museum, Palatine Modern & Art, Boboli Gardens, Medici Chapel or excursions to Siena, Wine fields, Pisa and much more!
-No 24h or 48 hr time limit. Enjoy Florence at your own pace!
What's included?
-Entrance tickets to the Uffizi Gallery
-Choose between tickets to the Dome of Cathedral or Accademia Gallery
-2-way airport transfer to the city center/your hotel 
-24h tickets for the Hop on Hop off Bus
*The tickets for the Hop-on Hop-off bus are only valid for 24hrs on one day, it is not possible to have the 24 hours spread over 2 days.
What are your advantages?
The Uffizi, Dome of Cathedral or the Accademia are often sold out days in advance. With the Florence City Pass, you are sure that you can visit the museums and that you can skip the line!
You can choose what you want to visit next to Uffizi. You can make a choice between the Accademia Gallery or the Dome of Cathedral (includes English guide). When you want both you can use your discount of 20% after your reservation to make a reservation for the other venue. 
The best and relaxed way to visit a city is using the Hop on Hop off Bus. You can sit back and relax while the bus stops at the best highlights in Florence. You can get out and in when you want and the tickets are valid for 24 hours from the first time you start using them.


 How does it work:
Step 1. Please select your arrival date in the city and specify what you want to visit next to the Uffizi. You can choose between Accademia Gallery or the Duomo di Firenze.
Step 2. Select a number of adults/children and the same time select the airport where you arrive (Pisa/Florence)
Step 3.  After your reservation, we will ask you more about your arrival details. Please note that if you're coming from Pisa airport, you'll be dropped off at Central Station. When coming from Florence airport, you will be taken to your accommodation.
Please note, that for the Florence airport the transfer schedule is:
APT/HTL: 09:00-10:00-11:00-12:00-13:00-14:00-15:00-16:00-17:00-18:00-19:00-20:00
HTL/APT: 08:00-09:00-10:00-11:00-12:00-13:00-14:00-15:00-16:00-17:00-18:00-19:00-20:00
Step 4. The museums (Uffizi, Accademia, and Duomo) work with timeslots for entrance to spread the number of visitors coming in each hour. After your reservation, we will ask you when you want to visit each of them.
Step 5. You will get everything by email so you don´t have to pick up the card in Florence. In your email you will also receive a discount code which you can use to book any of the below products:
Top products
Il Duomo
Palatine & Modern Art gallery
Pisa Excursion
Accademia Gallery
 Read more 
Attractions
Classic Vespa Tour of Florence and its Countryside
Fiat 500 Tour of Florence and its countryside
Florence bike rent (1 Day)
Guided tours
Uffizi Gallery Tour
Accademia Gallery Tour
Palatine Gallery Tour
Florence Guided Tour with Accademia and Uffizi
Florence Segway Guided Tour with Lunch
Walking tours
Top Florence Attractions Walking Tour
Florence Handicraft and Art Masterpieces
Vasari Corridor Guided Visit and Boboli Gardens
Renaissance and Medieval Florence Walking Tour
Excursions
Fashion Valley Outlets Shopping Tour
Electric Bike Tour of Florence and its Hills
Chianti Classico, Montalcino, and Montepulciano
The Treasures of Umbria
A Day in Venice
A Day in Rome: a taste of eternity
Art and Scent of the Sea: Pisa, Lucca & Viareggio
Nightlife
Special Dinner at a Florentine Home
Typical Dinner & Concert in the Heart of Florence
Florence Segway Guided Tour by Night
Renaissance Court Banquet in Florence
Experiences
Handmade Pasta and typical Cooking Class
Tiramisu the Great Italian Dessert
Shopping at the Florence Market & Cooking Class
Pisa
Pisa Hop on Hop off Bus
Afternoon Guided Walking Tour
Pisa Tower & Hop-On Hop-Off Bus
Important information:
The Florence city pass does not include public transportation in the city. But, once there, tickets can be purchased for a few euro.