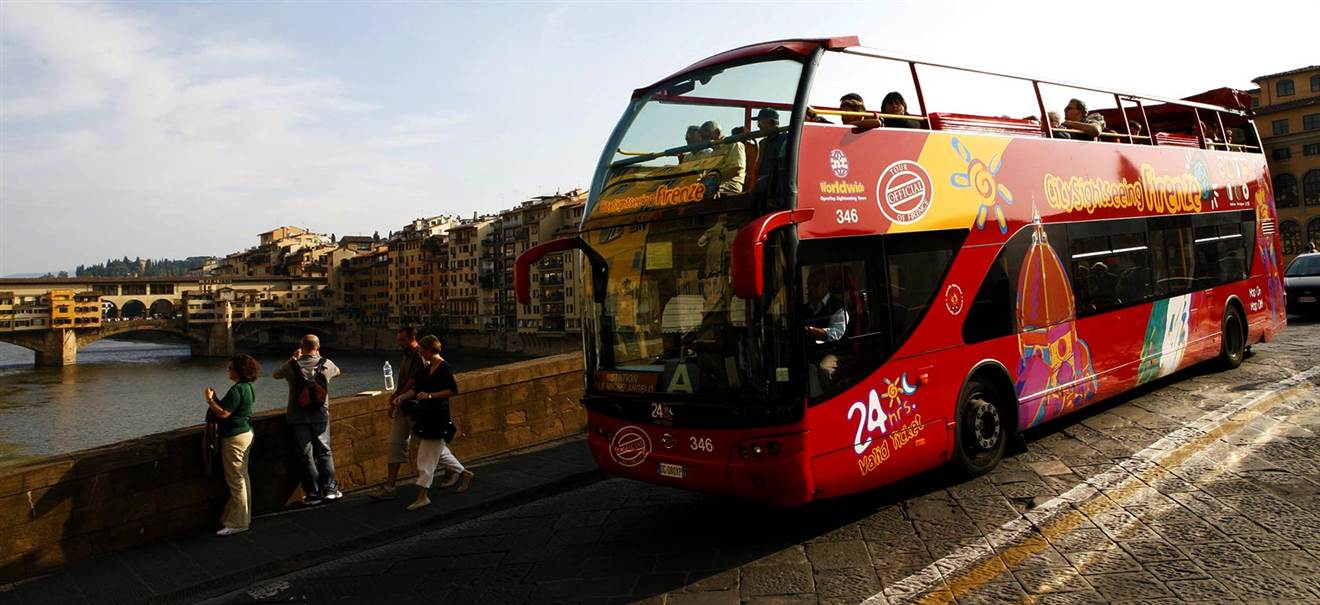 Florence Hop on Hop off Bus
To product

100% MOBILE
Show on your mobile
100% mobile! Don´t have to print your tickets! Go whenever you like. Your ticket will be activated from the moment it gets scanned
The most comfortable way to explore all the wonderful highlights that Florence has to offer!
See the magnificent Italian city of Florence from the top of a red open-top double-decker bus. Let City Sightseeing introduce you to this beautiful city and highlight all the things to do and places you can visit during your stay. With numerous stops conveniently located along the route, you can hop on and off at your leisure. With frequent tours on Line A and 3 hours a day on Line B, all with the same ticket, City Sightseeing Florence really is the best way to see the city. 
The city lies on the River Arno and is known for its history and its significance in the Middle Ages and the Renaissance. It is also famous for its art and architecture. Florence's museums, churches, and palaces house some of the greatest artistic treasures in the world.

Frequency:
To see a detailed timetable, click here!
Line A: From 15 minutes to 60 minutes 
First departure 9 am last departure 4:30 pm (November - April), 6 pm (May - October).
Line B: 60 minutes 
First departure 10:15 am (November - April), 10:05 am (May - October), last departure 2:15 pm (November - March), 5:05 pm (March - April / September - November), 6:05 pm (April - June),7:05 (June - September)
An audio guide is available in Italian, English, French, German, Spanish, Japanese, Russian and Portuguese.
These are the stops of the three routes:
Line A (60 minutes): 
Via Fiume 8/10 - Libertà - Donatello - Beccaria - Santa Croce -Teatro Verdi -  P.Giraldi - Ferrucci - Michelangelo - Galileo - Villa Cora - Calza - Pitti
Line B (120 minutes):
Piazzale Michelangelo - Ferrucci - Lungarno Serristori Demidoff - Grazie - Zecca Vecchia - Lungarno l'Africo - Righi (Ostello) - San Domenico - Regresso -  San Domenico - Righi (Ostello) - Stadio - Matteotti - Libertà - Dogana - Leopolda - Piazzale delle Cascine -Vittorio Veneto - Curtatone - Soderini - Tasso - Porta Romana - Macchiavelli - Galileo
Tickets are valid all year! Buy your ticket online and skip the line!