Florence Handicraft and Art Masterpieces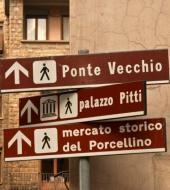 This memorable tour will give you the chance to meet and appreciate the genuine Florentine people: fantasy, genius, intuition and originality are mixed together to create an unique character.
What can you expect?
the impressive Piazza Pitti
an old atelier, where a master craftsman will show you his production of engravings and art prints
a workshop of a craftsman producing exquisite handmade objects in silver and enamel
a marble Florentine paper workshop, where you will be able to assist to the making of this product created in several designs and colors.
the charming Piazza Santo Spirito and its restaurants, shops and artists' studio
visit of the beautiful Church of the Santo Spirito
atelier of a great Florentine artist, descendant of six generations of sculptors
Price includes:
More information:
We recommend that you wear comfortable walking shoes.
This tour is not available to children under the age of 8.
This tour has 2 passenger minimum requirement and is subject to cancellation if this minimum is not met. In the unlikely event of such a cancellation, a refund will be awarded

Departure dates: April 2014 to October 2014: Tuesdays and Fridays

Departure and arrival time:

Duration: 3 Hours
Departure point:
Via Guicciardini, 15 – in front of Palazzo Guicciardini
Your ticket will be sent within 24 hours in a separate e-mail.

Tickets will be sent via e-mail!